Here's how the process works: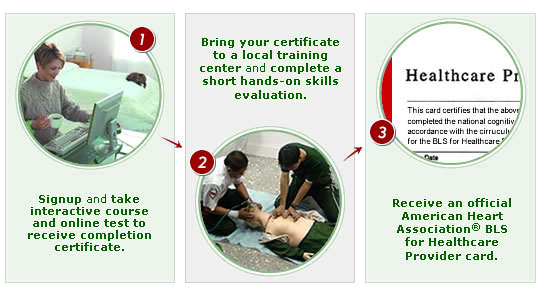 Course Details:
This course is designed specifically for healthcare providers who need an American Heart Association BLS card. The course covers everything except the hands-on practical components. There are 12 mandatory checkpoints that must be successfully completed before you are allowed to access the final written exam.
You will have mulStiple attempts to review and pass the online exam. Additional exercises and video clips are available for review purposes to help you refresh your hands-on skills. You must achieve a score of 84% or higher in order to pass the online course.
Once you pass the online exam, you must print out the certificate of completion and bring it to RCP Advanced Life Support or another American Heart Association training site or center. You must call 714-808-9036 or 714-808-9030 to schedule your skills check off.

AHA Online Renewal:  Frequently Asked Questions (FAQs)
Please contact us for any other questions or concerns.
Q: What is the Online BLS for Healthcare Providers Course?
A: This course allows you to complete all but the skills evaluation online. After you complete the hands-on skills session with an AHA BLS Instructor, you will receive a BLS for Healthcare Providers card.
Q: Who qualifies to take this course?
A: This course is designed specifically for healthcare providers seeking first-time or renewal BLS certification. However, anyone who wishes to complete the course is eligible.
Q: Is this program just for renewal?
A: No, this program was developed for both first-time students and renewals.
Q: Is a skills evaluation required?
A: Yes. In order to receive an AHA card, you must demonstrate the required skills to an AHA BLS Instructor. The skills test generally takes about 15 minutes. You receive your AHA card the same day if you take your skill test at our Anaheim location.
Q: Can I take my skills test before the online course?
A: No you cannot. All students must complete the online course before taking the skills test.
Q: How much time do I have to complete the skills test after I have completed the online course?
A: You are allowed one year to complete the exam. You are allowed up to 60 days after you complete the online portion to take the skills evaluation.
Q: Where can I find an AHA training center or training site to perform my skills check?
A: This is a national program. There are training centers in every state that perform skills check. Please call us to find the one in your area.
Q: How does the process work?
1. Sign up
2. Complete all checkpoints
3. Complete the exam
4. Print the certificate of completion
5. Complete the skills test with a BLS Instructor.
7. Once you successfully complete the online course and hand-on skills evaluation, an AHA BLS for Healthcare Providers card will be issued to you.
Q: Are refunds allowed?
A: Refunds are allowed as long as you have not used the access KEY we sent you. If you used the access key to log on to the AHA online renewal site, then no refund can be issued. The refund amount issued is the full amount paid for the online course. This does not include the $3 processing fee.
Disclaimer:
1. Course times may vary from person to person.
2. Additional fees may apply. Check with your local training center for details.
3. You must complete skills testing at a training center within 60 days.
4. RCPALS reserves the right to change the price of this course at any time.
This online course, developed by CardioConcepts, Inc., is fully accredited by the American Heart Association®.